AlliedSecure
AIM 360-Degrees
Requirement
Solution
Value Addition
Cyber security solutions and services
Assess

Implement

Manage

Security Architecture/
Compliance Audit

Data Protection

Managed Security Service

Dark Web Analysis

Identity Management

Threat Management

Breach Attack Simulation

Application Security

Social Media and Brand Protection

Vulnerability Analysis/
Penetration Testing

Network Security

Dynamic Deception

Red/Blue Team Simulation

Endpoint Security

SOC Tools

Email Protection

Advanced Incident Response

Cloud Security

Cyber Forensics Analysis

IOT Security
SOC Models
Managed Security Service
24x7 x 365 security operations

Supported security technologies

SOC Functions

Event Monitoring
Threat Hunting
Threat Management
Device Configuration & Management
Incident Management
Storage of Events for Forensics Analysis
Availability Monitoring
Daily, Weekly, Monthly & Quarterly reports

Next-Gen Firewalls
IPS/IDS
Application Firewalls
Email Security
Servers
VPN
Anti-Virus/EDR
Identity & Access Management
Wireless Networks
Databases

ADiTaaS

PINK certified
End to end Service Management
Customer Portal
Ticketing and SLA tracking
Our Partners

Compliant Infrastructure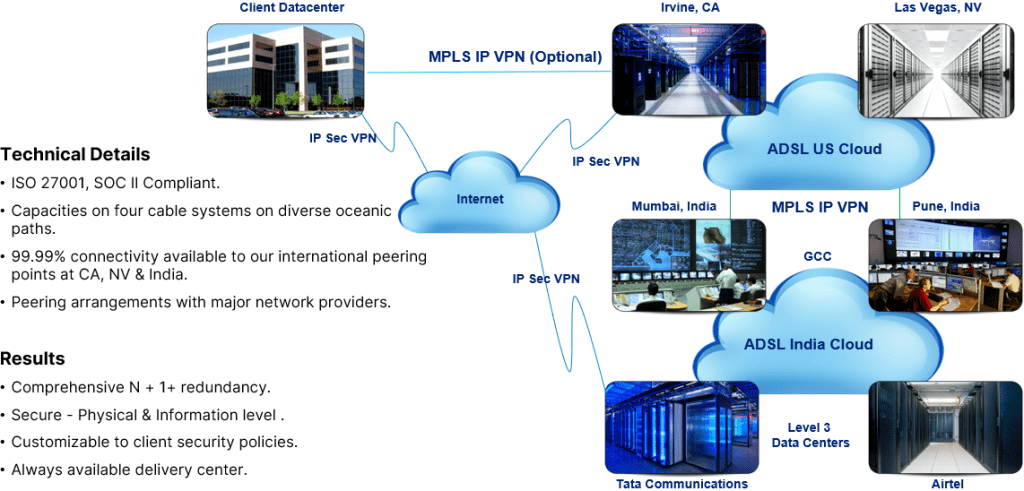 Cyber Threat Management
Threat Hunting and Management
With access to research capabilities, know-how and threat intelligence repositories, our team can accurately identify external threats, prevent attacks, and ensure resilience.
Continuously monitor Open, Deep and Dark web sites, as well as closed forums, social networks and messaging platforms and harvest data based on the organization's predefined threat hunting requirements.
Dynamic Deception
Use Deception Techniques to Protect
Use deceiving traps and lures designed to attract an attacker into engaging and getting away from production assets.
Project decoy throughout the network along with endpoint credentials, mapped shares, deception data or applications that will breadcrumb the attacker back to an engagement server that will alert on the presence of an attacker.
By laying a maze of decoys, lures, and mis-directions security teams can accurately and efficiently detect early reconnaissance, lateral movement, and credential theft, improving detection time and reducing attacker dwell time.
Security Incident Response and Forensics
Engagement Models
Onsite Incident Response (Rapid Response Team).
Remote Incident Support.
Onsite/Remote Digital Forensics.
Long term staffing contracts.
Summary of Service and Deliverables
Incident Handling based on Industry Best CERT processes.
Incident Preparation & Digital Forensics.
Reverse Engineering & Malware Analysis.
Lessons Learned document & Incident Reports.
Support to Law Enforcement Agencies.
Security Remediation Support.
Create/Enhance Incident Handling Processes.
Creating Incident Scenarios and Response Plan
Please share your details with us and we will reach out to you.