Endpoint Management from C-Suite Perspective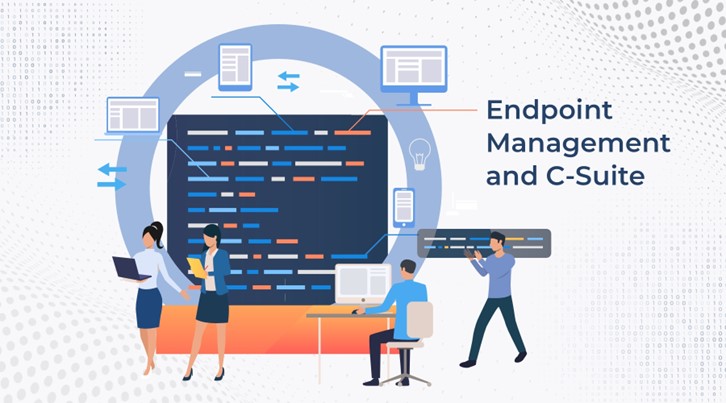 Ashish Raghute - SVP at Allied Digital shares thoughts on Endpoint Management from C-Suite Perspective.
How Endpoints have become the "Startpoints" for Cybersecurity Attacks
Last year, there was a 500% increase in cyberattacks against endpoints
93% of malware attacks begin at endpoints
40% of endpoints have hardware vulnerabilities
26% of organizations don't have an endpoint solution that can automatically detect and stop a cyberattack, and may have been a victim of cyberattack already
82% of CISOs revealed that endpoints often lack needed patches to stay secure or are overloaded with conflicting software agents
68% of organizations suffered one or more endpoint attacks that successfully compromised their data and/or IT infrastructure
85% of CIOs feel that their Endpoint administration is siloed among various functions such as service desk, purchasing, finance, security, and applications etc.
With the ever-increasing volume and sophistication of threats targeting enterprise endpoints, effective Endpoint Management has become an important cornerstone of an organization's security strategy. Endpoint Management is a set of software tools and processes used to harden, monitor, control, and analyze endpoint devices such as laptops, desktops, mobile devices, and IoT devices. It helps businesses ensure that the security settings are enabled in accordance with company policies and standards.
With this blog post, we want to demystify Endpoint Management for some of the key roles in the C-Suite, by addressing key objectives.
| | | |
| --- | --- | --- |
| CFO Objectives | CIO Objectives | CISO Objectives |
| Lease and Warranty Alerts and Information | A single CMDB/Asset List (and pivot tables) that is reliable, updated and easily available | Compliance with device hardening policies such as Data Leakage Protection, Encryption/Bitlocker, Local Firewall, NAC, auto-locking on failed attempts etc. |
| Underutilized software | A process to identify to-be-retired devices and a process to review, approve and retire them | Patch Compliance and Open Vulnerabilities |
| Unused assets | Devices that cause loss of productivity due to performance or configuration issues | EDR/XDR/Anti-Malware |
| Repair costs and related productivity loss | Devices follow corporate standards for UX and behavior (eg. Power policy) | Malware Alerts |
| Theft loss costs and risks | Application Deployment is timely and does not cause disruption | Physical asset control/anti-theft |
| Upgrade Vs. Buy | End-user satisfaction: No surprises on deployments, no unreasonable downtimes | Remote locking and/or data wipe |
| GRC Reports | Software costs are optimized | Authentication – Fingerprint, password, facial recognition, external keys etc. |
| A robust Endpoint Management program is integrated with Asset Lifecycle Management, Finance, Productivity and User Behavior Analytics and Audit platforms. | Effective Endpoint Management enables standardization, agility and reliability and ease of use of endpoints for the workforce, while eliminating waste in form of underutilized software and hardware resources. | CISOs are focused on hardening the endpoints to make it difficult for hackers to exploit them as the "startpoints" for a cyberattack, while also ensuring that the data assets stored on the endpoints are protected from falling into the wrong hands. |
These C-Suite objectives should be kept in view while evaluating an organization's Endpoint Management program. Endpoints deserve to be managed. Responsibly.